Monday, June 06, 2005
Home Again. Back To Work On Boxes
What a great week-end. The birthday party was fun. The weather was terrific. Seeing our granddaughters was the best part of the week-end. Sharon got Jessica a birthday hat. Jessica loved wearing it. She is a hat girl. Loves to wear them.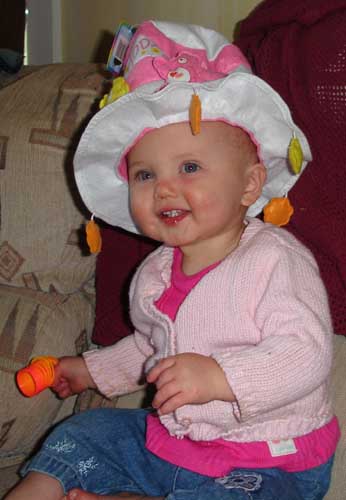 Now that we are back, I am tackling our box problem to the fullest. My plan is to spend 6 hours a day working on organizing them and getting rid of some of the stuff. I need neat areas to work in. Where the boxes are is next to impossible to work in, BUT that is changing quickly. Once we get a little more organized, I think we will split our days up into 4 hour sections. Designate what will happen in each 4 hours and then go with that plan. .
If we plan to go full-timing, there has to be some drastic changes in what we do. We need to take massive action to move forward. We really need to get serious here. So far it is working.
Hey, even the exercise machine is working. I went 6.5 miles this morning. It is slowly getting easier to exercise. Today I did not make the tension lighter. I left it "uphill" all the way.
So, step by small step we seem to be getting our act together finally. Maybe telling you about it helps also. When you tell the world you are going to do something, it means there is more of an obligation to do it.
I do have two vehicle problems to solve this week. I have a 1991 Chevy Caprice my parents owned that is due for a smog check by the 8th. I need to do that and then get it ready to sell. We do not need 4 vehicles plus a motorhome for two people. Then I need to solve the Bounder back firing and loss of power problem.
RV Living Home
Honda Generators
Making Money While RVing
Site Feed