Friday, May 20, 2005
Sea World Was Great -- Parked In San Diego
Yesterday was our first time at Sea World for about 25 years or so. It has changed and yet is basically the same with the dolphin and whale shows. We had a very enjoyable day. We even had a behind the scenes tour back where the animal hospital is and holding tanks for sick and injured sea life that Sea World rescues.
The dolphin pool is one of our favorite spots. The dolphins swim right up to the edge of the pool where you can touch them. Of course if you buy some fish from the stand, they are more likely to stop in front of you and easier to pet.
Sharon feeding a dolphin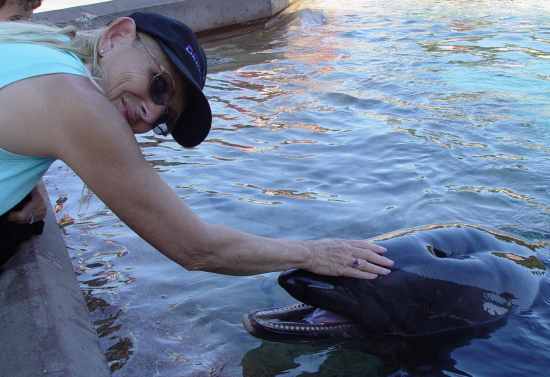 The entire day was one of amazement and pleasure. HOWEVER, it is not cheap to get in, $51. Luckily we had free passes we had won from our local radio station. Meals are not cheap there, but our lunch was very good with large portions. $34 for lunch BBQed lunch for two. I am not sure how much cheaper we could have gotten off, but there were not a lot of places to eat. We could have gotten a $5.99 hot dog, but that did not appeal to us. Sharon had strips of brisket, corn on the cob, french fries and a roll. I had a combo plate with chicken, brisket and ribs and the same side dishes. We shared a piece of strawberry cheese cake for desert. A very good meal for a tourist attraction "diner".
We sure get better dolphin picture than at the beach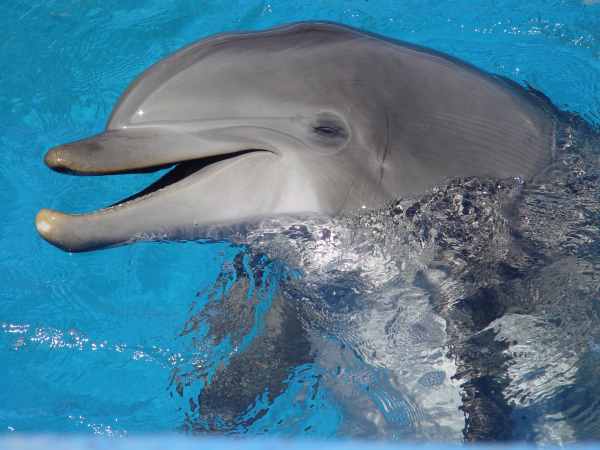 We arrived at our campsite at San Diego Bay about 6:30 last night. The RV park is very nice "for an RV park". It is all asphalt roads and concrete pads with bushes between each site. It reminds me of a mobile home park. We have a spot on the bay side and look out at the water through our back window. The normal rate per night are $50, but we got a group rate of $30 (Sharon thinks she sent -- she can not remember exactly). There is a heated pool, jacuzzi, exercise room, laundry, camp store and all the amenities you might need including donuts and coffee Saturday morning. I think the donuts are 50 cents each, but not sure.
I really like this area from where we camped at San Elijo on down. The coast is beautiful and the ocean and waves are prettier than up where we are. Of course, like all of coastal California the housing prices are very high.
RV Living Home
Honda Generators
Making Money While RVing
Site Feed