Monday, May 16, 2005
Two Days Off And Then On The Go Again
The mountain air must have agreed with me at the campground this week-end. I slept until 8:30 the first day and 9:00 the second day. I am often up before 6 and sometime before 5 at home. Camping sure is a wonderful break from every day life.
Lake Casitas

Our Bounder was tucked up into the pines in very spacious camp spots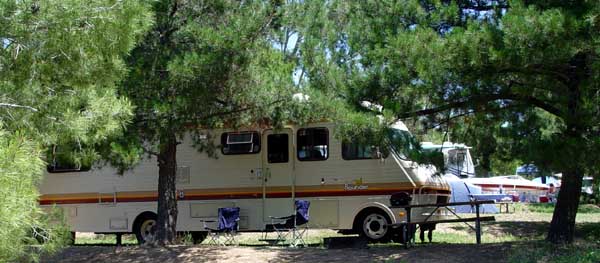 When Sharon went out boating, there was an event going on at the Lake. There were hydroplanes, a fire department rescue helicopter and two or three water airplanes that landed on the lake. I think they were giving rides if you paid the price. I did not go with them, so I did not see all this extra stuff. I was lazy and just wanted to kick back at camp. Maybe I should have gone on the boat ride.
Here is a 1966 Sunbeam boat/car. It was made to drive right into the water.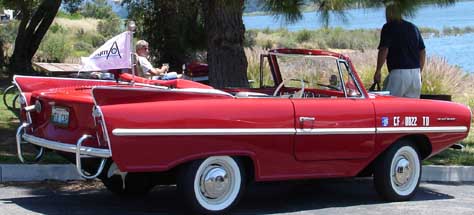 This time while camping I tried uploading a picture from the campground. It worked fine. From now on I will try to upload the pictures sooner.
We have two days off now, kind of like a week-end in reverse. Then we take off for the five day "week-end". I think this would be a good trend to start. Less work and more play.
I sure did not miss the exercise machine over the week-end. However, it was here waiting for me this morning. I put 6 miles on it today. That is a new record for me. I hope this program just keeps on going and going. It would be nice to have more of the strength and stamina I had when I was younger. Sitting in front of a computer all day does not make for a healthy body.
Tomorrow I have an eight o'clock appointment to get the headers re-torqued — tighten the bolts — since it had gone 100 miles. There is a settling in period for the gasket and re-tightening insures they do not leak.
RV Living Home
Honda Generators
Making Money While RVing
Site Feed