Tuesday, April 05, 2005
Apr 5, '05 Found A Great RV Computer Desk
This morning we drove over to the Ventura harbor to see the Irving Johnson again. She is now dry-docked. Her masts have been removed and the yard crew is removing various remaining rigging, parts and pieces.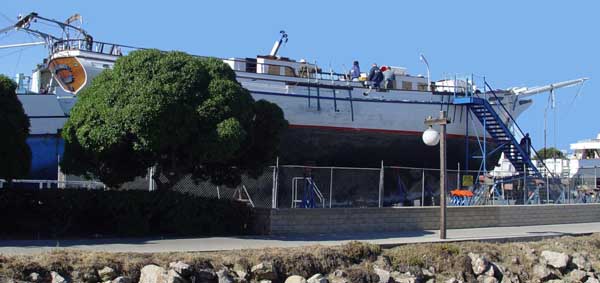 To the layman's eye, she doesn't look a lot worse out of water than she did in the water. The damage to the bow is apparent and you can see more of it. One side of the rudder has a large piece out of it, but the from the other side it looks normal. I am sure there is significant damage, but it is a lot less than I would have expected from the beating she took on the beach. I did not get to talk to any of the crew today, so do not know anything more than what I saw.
OK, Sharon raised a question, "Is a ship named after a man still called SHE"?
I found a great RV computer table at office max. It can be used for hobbies and crafts as well as computer. The best part about it, is that it stores out of the way. Check out the article I wrote about it and see pictures at RV Computer Desk Article Today I stopped at our local RV store and bought some chrome tie down brackets so I can keep our desk firmly in place while traveling.
We are doing last minute things in preparation for the rally. We will leave Friday morning, by 9 a.m. It is only about a two hour drive.
RV Living Home
Honda Generators
Making Money While RVing
Site Feed