Sunday, January 16, 2005
Jan 16, '05 Do You Work On Sunday?
Do you work on Sundays? We must have a pretty boring life. We usually work 7 days a week. When you work for yourself and do not have a "mega-business" it seems you just keep working and working to keep the wolves away from the door. The good thing is that I am happier working for myself for long hours and low pay than I ever was working for a "boss".
Yesterday we drove up the coast, 96 miles round trip. The water's edge is a mess. Lots of debris that washed down from inland. Logs and a bamboo like plant by the ton. The road along the coast both north and south bound to Emma Woods State Campground and the Rincon Campground is open to residents only. We drove by La Conchita where the massive landslide was. A sad place.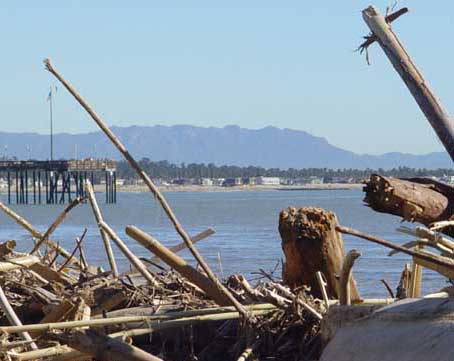 Debris Along The Beach
There is not a lot of coastal camping in the winter along our local California coast. Many campgrounds close between December and March. Then we get storm damage and that closes more camp sites. Though I guess we are still better off than a large part of the USA.
We stopped at the Ventura Harbor on the way back. As we walked along the storefronts and announcement came over a public address system, "Harbor cruise leaving in five minutes". We walked down to the boat and boarded for a 40 minute trip. It cost $8 per person. We take our Porta-Bote out in this harbor, but the paid cruise inside the glassed in tour boat was fun and informative. Back in the 60's a guy went bankrupt because he could not sell these lots in the harbor keys. The bank sold them for $1000 a piece. Today and empty lot there sells for over $400,000 -- a nice markup.

Rough Life
-- Homes in the keys
After the cruise we drove down to the "Channel Islands National Parks Visitor's Center" where they have marine exhibits and also where you get Federal Parks passes. I paid my $10 and am now the proud owner of a "Golden Age Passport" which is good for my lifetime. It gets me into National Parks and other federal recreation areas for free and gives me a 50% discount for federal camp sites. I turned 62 on Jan 1.
It was a beautiful warn sunny day. We walked along the beach on the "boardwalk" near the Ventura Pier. There were lots of people enjoying a beautiful day. Many people walking their dogs. I did take a picture of a man walking his two dogs.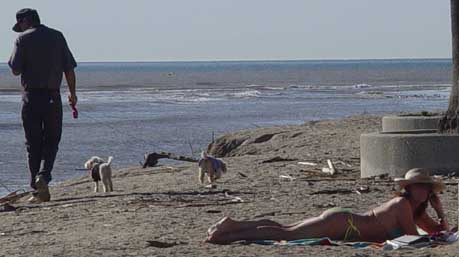 Cute Little Dogs
RV Living Home
Honda Generators
Making Money While RVing
Site Feed